Personal
I'm 62.
I've been incredibly fortunate.
When I was eight my parents moved us to Teller, Alaska on the Bering Straits.
On a clear day you can turn west and look into tomorrow.
(thanks to the International Date Line)
I grew up in an Inupiat Eskimo village of 200.
Friends taught me lessons for which I'm profoundly grateful.
Sam Ailak, an elder, shared his time when I was 14.
The longer I live, the wiser he becomes.
Growing up in a place where continents and worlds touch gave me a love
for in-between space.
("Zwischenraum" the Germans call it)
I went to college and then grad school at Harvard's Kennedy School of Government;
eventually I finished school and began management consulting.
Then I discovered coaching.
It's allowed me to connect the wisdom of all my worlds.
That's my history in brief.
Here are my favorites so far in life:
My daughter's smile
• Writer:
"At the Back of the North Wind"
George MacDonald
• Essay:
"The Weight of Glory"
C. S. Lewis
• Short Story:
"Leaf by Niggle"
J. R. R. Tolkien
• Poem:
"The Windhover"
Gerard Manley Hopkins
• Icon:
The Trinity
Andrei Rublev
• Writers on the North:
Barry Lopez | Nick Jans | Hugh Brody
• Places:
Seward Peninsula, Alaska | St. Petersburg, Russia | Anyplace above the Arctic Circle
• Food:
Mediterranean (by Rabah Chettfour at Aladdin's)
Anything prepared by Alaska's Cathy Frost
• Outdoor activity:
Hiking | Sea Kayaking
• Business activity:
I focus on relationships.
They're more fun than anything else and longer lasting.
• Creative outlet:
Launching into a new adventure | Writing
• Music:
Moya Brennan | album: Whisper to the Wild Water
Shaun Groves | album: Invitation to Eavesdrop
• Indoor activity:
Reading





Things I don't really mind:
Blizzards
Wind
Being alone
Mosquitoes





People who have really helped, and influenced me profoundly:
Jim and Audrey Pearson
Parents
They were gifted to me and give me unconditional love.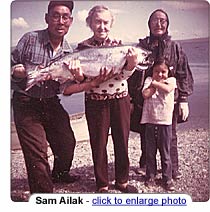 Sam Ailak (1911 - 1983)
Inupiat Eskimo elder. He introduced me to the art of listening.
Nancy Baker
Personal Coach
She's always there. We have tons of fun together
Cheryl Richardson
Mentor Coach
She shared the bestsellers before she wrote them: Take Time for Your Life, Life Makeovers
Agnes, Brenda, Carl, Hazel, Ingrid, Iris, Kim, Mark, Paul, Doc
The first class of Training Without Walls.
They let me coach and learn.
MindJazz Players
Professional colleagues
They're neat people doing neat stuff in neat places
The People I Coach
they keep me in awe





What I'm proudest of:
Biggest accomplishment:
My daughter
Coolest thing I've developed:
Alaska Native Leadership Network
Training Without Walls
The Best of Times, The Worst of Times:
Being seriously ill in East Germany in the summer of 1988
(yep, before the Wall came down)
They had really good doctors and I got Prince's Room #1.
The local party official got Room #2.
Best lesson I've ever learned:
being yourself is a very good thing
Smartest thing I've ever done business-wise:
going into business
Most intriguing/compelling project:
G3 Dinners: introducing great people to great people
(G3 = great people, great time, great stories)
Values:
relating
sensitivity
catalyst
Favorite word and experience:
eucatastrophe
the sudden joyous 'turn' of the happy ending
"Joy beyond the walls of the world, poignant as grief"
- J. R. R. Tolkien
A few pictures
Alaska
• Cruise ship in College Fjord
• Glaciers in Collision
• Glacier with curves
• Glacier-fall
Please say hello. I enjoy mug-ups...
(a mug-up is coffee/tea/conversation - shared by two hunters when they meet on the ice)