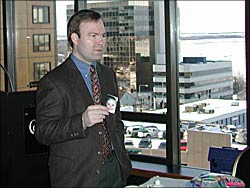 Bio
Tim Pearson is an experienced personal and professional coach.
He can assist you in designing a life and a career that's truly yours.
Put your values into action.
Tim holds:
• Master in Public Policy degree (organizational development focus) from Harvard University's Kennedy School of Government, Cambridge, Massachusetts, 1989
• Master of Arts degree (Human Rights focus) from Wartburg Theological Seminary (ELCA), Dubuque, Iowa, 1987
• Bachelor of Arts in Political Science from Willamette University, Salem, Oregon, 1984
• Associate of Arts in Biblical Studies from Lutheran Bible Institute (now Trinity Lutheran College), Issaquah, Washington, 1980
Coaching
• He has coached, grown, and developed more than 1200 executives, managers, and teams since 1990
• His clients are in: telecommunications, information technology, financial services, health care, insurance, education, engineering, government, law, oil and gas, foundations, and the nonprofit sector
• Tim has co-designed and coaches two management and leadership programs:

• He developed Adventure Alaska Summer Camp, a one week coaching and sea kayaking experience in Alaska's Prince William Sound, together with Robyn McCulloch, for people who are looking for change, growth, and renewal
Executive Search
• Tim has recruited 79 Presidents, VP's, CFO's, GM's, executives, and managers from within Alaska and throughout the U.S. One of his most challenging searches involved successfully recruiting a Florida candidate to Alaska in the month of March.
• Examples include:
• The Executive Director Search for the Alaska Industrial Development and Export Authority (AIDEA) and the Alaska Energy Authority, a $2.1 billion dollar economic development authority for Alaska
• The City Manager Search for the City of Dillingham, Alaska
• Other positions he has filled include: President, Executive Director, General Manager, Chief Finance Officer, Vice President of Human Resources, HR Director, Customer Service Director, Finance Director
Strategic Planning
• He conducted strategic planning sessions for the North Slope Borough Health Department in all eight communities in the North Slope Borough, the United States' largest municipal entity by geographic size.
• He regularly facilitates planning sessions for both for-profit and non-profit organization
Tim is 56 years old, married and lives in Anchorage, Alaska. He grew up 150 miles south of the Arctic Circle in the Inupiat Eskimo community of Teller, Alaska (pop. 200). He finds magic in the mountains of Alaska's Chugach State Park, Kahluaccino Chip ice cream, and his daughter's smile.
He spends his summers on Prince William Sound, Alaska, and his winters in Anchorage and anyplace (cold or warm) he can fly to.
He can be contacted at (907) 952-3498 or by email at: timpearsonak@gmail.com.